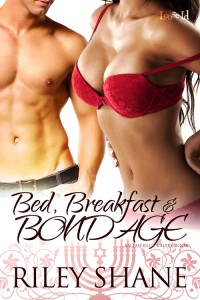 Bed, Breakfast, and Bondage
Emerald Valley Series
Erotic Contemporary Holiday Romance
ISBN: 978-1-62300-092-9
Buy it here at Loose Id
Read an Excerpt
Reviews

Can an erotic holiday bargain bring together two long-separated lovers?
Most women wouldn't mind waking up to find six feet of perfectly-defined male muscle cooking for them. Then again, Anaya Bancroft isn't most women. She's the innkeeper and co-owner of Emerald Valley Bed & Breakfast and it's only pure desperation — and a complete lack of ability in the kitchen — that have her turning to her ex for help with the B&B's biggest event of the year. Devlin Levi may be a famous chef, but he broke Naya's heart once and she's not about to let him do it again. Devlin is welcome in her kitchen, but that's it.
At least, that was the plan.
Devlin has a plan of his own, one that could change everything. He wants Naya to give him eight nights. Eight nights of unbridled passion, eight sexual fantasies explored and fulfilled, eight chances to prove they're made for each other. If, at the end of their time together, Naya still believes they can't make a relationship work, the two of them will part — for good. It's a bargain Naya can't resist, even though she fears it will end in heartbreak.
Then again, a lot can happen in eight nights…
The slide of silk against my bare back was a delicious counterpoint to the rough, calloused hands cupping my ass. I moaned as those talented hands slid downward to my calves before one circled around to come back up, past my knee to my thigh, where it stopped.
"Anaya." Hearing my name in the deep, husky voice of my lover sent shivers through me.
I bit my lip and raised my hips in an unspoken invitation for that hand to continue upward, but a warning squeeze signaled that my lover would not be rushed. I was wet with wanting. Yet I held back my pleas and was rewarded when a thick finger brushed at my core. A second finger followed suit as my lover parted my labia. My gaze flew open when he touched my favorite spot, and I heard his throaty chuckle at my surprise. Then he leaned his head down, shifting ever closer to where I needed him most.
My breathing grew heavy, raspy as Darth Vader and his Stormtroopers crashed in through the d—

"What the what?" I woke abruptly and shot up into a sitting position, disoriented and fast losing any sensation of arousal. I blinked, terribly confused as reality came slowly back. I was in my bedroom. Flipping on the bedside lamp, I blinked, relieved for once that I was alone. I was having enough trouble figuring out what the hell had been going through my head without trying to explain it to someone else.
A flashing light signaling a missed call on my cell phone gave me a clue as to how my erotic dream had turned into a creepy Comic-Con-gone-wrong scenario. I squinted at the phone. It was one in the morning, and only Leah had "The Imperial March" as her ringtone. Sure enough, before I could return the call, Darth Vader's entrance music blasted at me again. With a groan, I answered, positive I was not going to like whatever my best friend had to say.
"This better not be you calling for a late-night ice cream run again," I said by way of greeting.
I should have been so lucky.
Everyone, no matter their age, race, gender, or nationality, has a phrase that will either make their insides shrivel or their eyes see red. "We need to talk"; "It's not you, it's me"; "Because I said so…" Whatever else comes of the conversation, there's no quelling that flash of irritation or sense of dread. Personally, I'd learned back in kindergarten that the phrase "Don't hate me, but…" leads to nothing but trouble.
"Don't hate me, but…"
I groaned and flopped onto my back.
"…there's a hiccup in today's plans."
That had me sitting straight up. Leah and I owned and operated Emerald Valley Bed & Breakfast, and Thanksgiving was one of our busiest times of the year. Emerald Valley was home to Oregon College, and with the way the college scheduled their finals, plenty of students couldn't make it home for Thanksgiving. Which meant the Emerald was at full capacity with visiting parents.
One of the not so surprising secrets to running a successful B and B? Having someone on staff who could cook a kick-ass breakfast. And of the Emerald's staff of two, that someone was most definitely not me—I could burn water. I'm pretty sure I even managed to do it once. In the world of the Emerald, I was the Bed; Leah was the Breakfast. I lived at the B and B, handled the guests, was on-site for all emergencies, and dealt with the majority of business matters and promotions. Leah did the cooking, and we split the rest.
Sure, I could buy breakfast for the guests; the town of Emerald Valley had some wonderful bakeries that opened early. But our annual Thanksgiving feast was a big selling point for the Emerald this time of year, and we generally generated a significant amount of new business, thanks to out-of-town guests who were only here for the dinner. Having me at the stove for Thanksgiving dinner was the quickest way for the Emerald to lose business, since my attempts at cooking could be described as "toxic" at best.
"'A hiccup'? Lei, no. Not today. We've got twenty-two for dinner."
"I can't make it today."
The undisguised fear I heard in Leah's voice had all thoughts of the Emerald flying out of my head. "What's wrong?"
A pause.
"Lei, you're scaring me. What's going on?"
"I think I'm in labor."
My blood ran cold. Leah was only partway into her third trimester.
"Jon and I are on our way to the hospital," she continued. "I…I…"
"You're going to be fine. Both of you. You hear me?" I tried to keep my voice level, made sure I sounded confident. But a shaken Leah terrified the hell out of me.
"Yeah. Yeah… Shit, Naya, I'm scared. What if—"
"Hey, no."
"Everything is going to be all right. Keep calm, baby," I heard Leah's husband say in the background.
"Listen to Jon, Lei." I tried to sound soothing. "That niece of mine is just being a diva like her mom. Or she's sick of all the ice cream you've been feeding her and wants to make an early prison break. Either way, it's all going to be fine. I'm sure this kind of thing happens all the time. The doc'll take care of it."
There was a gasp, followed by a deep exhalation. "Ouch. Hell. Okay, yeah. You're right. We're almost at the hospital. It'll be okay."
"Exactly. Calm down. Do you want me to come to the hospital?"
Another deep breath sounded in my ear. "Calming. And no, we're not canceling on our guests; it'd be a disaster. But I did need to talk to you about today."
"Are you kidding me? Leah Rachael Montgomery-Levi, don't you even think about the Emerald right now."
"Can't help it. I don't want any guests joining me in the ER if you cook."
I barked out a nervous laugh. If she could make a joke, her nerves were settling. That had to help. Or at least, I believed it did. Now I wished I'd paid more attention to the gory details my sisters had been wont to share when they were pregnant. Being seven weeks early for delivery wasn't that bad nowadays. Was it? I had no clue; all I knew was that I had to keep Leah from growing agitated.
"I'll figure out something, okay? I'll make it work, even if I have to break into a restaurant and steal a cooked turkey."
"I think I can save myself bail money. Don't hate me, but…"
I cringed. There it was again. That phrase.
"…Devlin's staying with us, and I made Jon ask him to help you out while I was waddling to the car."
Leah tended to smush words together to speedily get out something she knew would have me contemplating amicicide, so it sounded more like "DevlinstayingithusnIadeonasimoelpuotileIasaddlingothar," but I parsed it together. And immediately wanted to bang my head against the wall.
"Lei—"
"We're here. Love you, thanks, bye."
Dammit.
"Love you too. Take care of yourself and the baby." But I found I was talking to myself.
"BED, BREAKFAST & BONDAGE is a fun and entertaining holiday gem. It may be the first book by Riley Shane I've read, but it won't be my last…I knew when the first page had a phone call with Darth Vadar theme music, which pulled Anaya from an erotic dream, that this attention grabbing opening would keep me turning the pages. And I was right. I just couldn't stop reading this one. Anaya's a hoot; Devlin's too sexy for words and together—think combustion. The author did a nice job with the personality development of both characters and interjected their past relationship throughout the story in well-placed snippets. The dialogue is fun and snappy, the imagery vivid and the plot fast paced. On top of all that you have two holiday settings (Thanksgiving and Hanukah) that are perfect for this time of year…If you enjoy romances with interesting characters, fast-paced plots and fun premises set at the holidays, I suggest you give this one I try. I enjoyed it and I think you will too." ~ 4.5 Blue Ribbons from Gayle @ Romance Junkies

Copyright Protected Work.
Riley Shane, Author. Loose Id, Publisher.