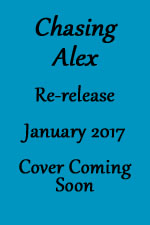 Chasing Alex re-release!
Male/Male Contemporary Romance
**January 2017**

Chase Larkspur is a rodeo cowboy who likes a good ride…as long as he's the one calling the shots. Alex Dawson is a bull rider who tests every limit Chase has ever set. The passion between them burns bright and hot, until Alex grows tired of keeping their relationship a secret—and of being the one who's always ridden. Alex lays down an ultimatum, and then the rest is up to Chase. Does Chase let the best thing in his life run away to the family ranch, or is he brave enough to chase Alex down?
Currently Working On:
Note: As of right now, none of the projects listed below are under contract. I simply wanted to share with readers a few of the books I'm working on at the moment.
Zero Hour, male/female paranormal romantic suspense
Beyond the Hollow, male/male historical paranormal romance
Seattle Marauders, Book 3: Hat Trick, male/male erotic contemporary romance, Kyle Harper and Nathan Troy

Next Up:
Emerald Valley Series: [Untitled], male/female erotic contemporary romance, Jonathan Levi and Leah Montgomery
As the World Falls Down: male/male paranormal romance
International Relations, Book 3: Unexpected Gifts, male/male contemporary romance, Delaney Carmichael and Connor Marino
Emerald Valley Series: [Untitled], male/male erotic contemporary romance, Devereaux Cavanaugh
Vale of Shadows: sci-fi, Vale Lancaster
Seattle Marauders, Book 4: Breakaway, male/female erotic contemporary romance, Nick Foster and Allyson Hale
Seattle Marauders, Book 5: Exhibition Game, male/female erotic contemporary romance, Debra Quinn
Seattle Marauders, Book #?: [Untitled], male/male erotic contemporary romance, Flynn
Magick Series: The Spirit of Magick, male/male paranormal. Curious to see how Jason and Travis (The Taste of Magick) fell in love? Heh heh heh…
Realm of Nine, Book 2: Blood Kiss, male/female paranormal, Cáel's book
[Untitled] male/female sci-fi
[Untitled]: male/male sci-fi
Geek Chic: male/female contemporary romance
International Relations, Book 4: [Untitled], male/male contemporary, Connor Marino and Delaney Carmichael

And a few other projects 😉