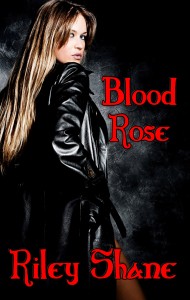 Blood Rose
Realm of Nine, Book 1
Male/Female Paranormal Romance
Ebook (previously published by Loose Id): All Romance eBooks | Amazon.com | Amazon.co.uk | Amazon.fr | Amazon.de | Barnes and Noble
Paperback: Amazon US | Amazon UK | Createspace
Print ISBN: 978-1481242790
Read an Excerpt
Reviews
To save his people, a half-mad prince must enlist the aid of a woman who has no reason to help him…and who he has every reason to desire.

At sixteen, Rose Carrison lost both her parents and her freedom. Since her father's death, Rose has had to pick up the mantle of her family's legacy and guard an object of incredible power, one the monsters who murdered her parents would kill to get their hands on. After ten years on the run, Rose's luck finally runs out. A fate worse than death threatens to consume her. Then, out of the darkness, comes the most unlikely of rescuers…
Grayson van Court is a man skating on the edge of damnation. He's a revenant: a powerful, blood-drinking, returned-from-the-dead, magical creature that no other magical species wants anything to do with. For centuries, Gray has bargained and fought for the revenants' right to survive, but his efforts are hampered by his sociopathic mother and the madness that permeates his own soul. When Gray rescues Rose from his mother's machinations, his intention is only to stop the attacks against his people that would surely come if Rose were harmed. But then he sees her, and everything changes. Two people who should never have met soon find themselves fighting side by side for the chance at a love that could prove to be their salvation.
Prologue
Being caught between two men is never as glamorous as the movies make it out to be.
~ Rosaline Carrison

The cool kiss of metal was a balm against her flushed skin. At least it was until the dagger turned, the edge of its blade sliding against her throat, close enough to cut if she moved even a millimeter. Rose tried to hear over the pounding in her ears, fought to keep her breathing regulated, lest panic cause the blade to do Alasdair's job for him.
"What of our bargain?" Gray's voice was gritty, and his eyes burned with rage. She could tell that the man she loved was perilously close to losing control.
I hate this. I hate this. I hate this.
"She died this way before. Did she tell you that, Fionnlagh?" Alasdair spoke as if Gray hadn't, seemingly unconcerned that his adversary was two steps away from destroying them all from the inside out.
Instinct screamed at her to fight. To stop this before…
She forced herself to stay still.
"Now, of course," Alasdair continued, "that she is one of your kind, I suppose it would not have the same effect as when she was human. But then, I could keep slicing and cutting until she bleeds out. Doing so would be quite messy — and painful, I am sure — as her body heals and breaks, heals and breaks. Still it would be more kind than what happened to my cousin at your mother's hands."
"I'll give you –"
Alasdair cut him off. "Yes, you will give me something."
Forgive me, Gray.
"Vengeance." Shock overrode pain as the dagger slit her throat.
Copyright Protected Work.
Riley Shane, Author. Loose Id, Publisher.
"Ms. Shane leads the reader on a journey of loss, devastation, fear and empowerment that is a joy to experience. This is a story that entraps the reader. Once you start reading, you don't realize how enthralled you've become until you sigh with satisfaction at the conclusion. For all these reasons I believe Blood Rose deserves a JERR Gold Star Award. Ms. Shane has penned a truly memorable story that shines as an example of the genre." – JERR Gold Star Award from T.S. Peters @ Just Erotic Romance Reviews


"Riley Shane's Blood Rose is a sublime paranormal romance set in an ingenious world. Ms. Shane got the story started with an intense scene that mesmerized me. I find the premise of Blood Rose to be a fresh and compelling new take on vampire romance. The characters are complex and easy to become enamored with. I cannot wait to read more about all of these people I've become invested in. Gray and Rose share a scorching chemistry. The passion between them is sizzling! I love these two! I also love that Ms. Shane kept surprising me.
"There are so many twists and turns in Blood Rose. I truly was not expecting all the things that happened. The action sequences are fast and powerful you will feel like you are a part of the action. One of the things I love about Gray is that he rides the line of good and evil. He is constantly doing battle with himself. Sometimes this can go wrong in a story and become tiring but Ms. Shane manages to turn Gray into an undeniably strong character that you want to cheer on. What comes off exceptionally well in Blood Rose is the feeling that the world truly hinges on the contents of the box that Rose is charged with protecting. I definitely felt the apocalyptic tension that accompanies the box legacy. And the fact that in a world filled with supernatural entities the box is entrusted to a human just increases the palpable suspense in Blood Rose. I can't wait to find out what happens next in the Realm of Nine!" – A Joyfully Recommended Read from Miranda @ Joyfully Reviewed

"The mix of fantasy and contemporary is seamless and offers every reader a world to enjoy. Blood Rose is an awesome book full of magic. The awe of the writing almost overshadows the exotic story between Gray and Rose but it is so hot it blazes beyond control. The reading of Blood Rose promises a sensual experience to spark the readers imagination." – 5 Cups from Delane @ Coffee Time Romance & More

"[Blood Rose] is an exciting story from the first page to the last. The characters are beautifully developed and the sex is explosive. I cannot wait to find out what happens next." – 4.5 stars from Candy @ Sensual Reads

"Highly, highly recommend for those looking for an excellent paranormal romance. This one has everything I look for. Characters you can love and root for, a world you could live in, and tight plotting that keeps you turning pages." – An A+ review from Angela @ Touch the Night